Elizabeth Isom Willauer (Betty) (1935-1999)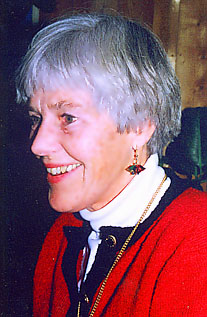 Elizabeth Isom Willauer (Betty), died Sunday, at her home in Cushing, Maine, after an 18-month battle with mullerian cancer. She was 63 years old.
She is survived by her husband of 42 years, Peter O. Willauer; her uncle David Brown of Long Island; her sister, Anne W. Kauffman of Hollywood, Florida; her three sons, Charles S. of Duxbury, Mass.; David O. of Cumberland, Maine; P. Langley of Hope, Maine, along with seven grandchildren.
She and her husband Peter founded the Hurricane Island Outward Bound School (HIOBS) in Rockland, Maine in 1964, now the largest Outward Bound School in the world. Betty supported her husbandís role as founding Director by serving as one of the first women Outward Bound Instructors in the early 1970s. Betty was a pioneer in blazing the trails for women to have the courage to start careers in experiential education. She was a role model for Outward Bound staff members and their families, and became the first woman in Maine to earn a 100 ton auxiliary sail US Coast Guard captainís license. She was the first recipient of the HIOBS Distinguished Service Award, which is granted to individuals who exemplify the Outward Bound motto: "To serve, to strive, and not to yield." Through her loyalty and support, the Hurricane Island Community has been enriched and energized.
After moving her family to Maine in 1971, Betty took a great interest in holistic health, nutrition and natural foods. She raised chickens, turned off the furnace and burned wood, taught Hatha yoga, planted an organic vegetable garden, made her childrenís and her own clothes. She nourished her family and friends with her energy, spirit and grace.
Betty was a life-long sailor, from childhood trips with her family aboard their sloop Valgerda III, to many expeditions with Peter and their family. She spent her last summer cruising in Maine with her husband Peter aboard their sail vessel, Eight Bells.
Music was a big part of Bettyís life. As a teenager, she enjoyed singing and playing the ukulele with her sister, who accompanied her on the accordion. They were a well known duo in the cruising circles along the Maine coast. Later, she encouraged her family and friends to continue singing folk songs and sea shanties, accompanying them with her guitar. She was one of the founders of the Coastal Choral Society in Mid-Coast Maine, was a member of the Concord (Mass.) chorus, and more recently, sung with the Downeast Singers.
She is a graduate of the Beaver Country Day School in Chestnut Hill, Mass. (1953), and attended Smith College. In the early 1980s, her interest in health and nutrition led her to complete her AB degree from Smith as an Ada Comstock Scholar, in conjunction with a nursing degree from the University of Maine at Augusta in 1985. She became a registered nurse at the age of 51.
In 1992, Peter and Betty returned to Belmont, Mass., where Betty worked as a home health care nurse and Peter served as President of the Thompson Island Outward Bound Center. She was actively involved in the St. Johnís Episcopal Church in Thomaston, Maine and the All Saintís Episcopal Church in Belmont, Mass.
In lieu of flowers, Betty asked that donations be made to the Peter and Betty Willauer Endowed Scholarship Fund at the Hurricane Island Outward Bound School, 75 Mechanic Street, Rockland, Maine 04841.
The celebration of the life of Elizabeth Isom Willauer will be held at 12 noon, Saturday, January 16 at the Thomaston (Maine) Baptist Church, 112 Main Street. After the service, the family will receive friends and relations one block to the East at Watts Hall, also on Main Street.