Wedding Party 15 June 1956 at 224 Rutledge Road, Belmont, Massachusetts in 100-degree heat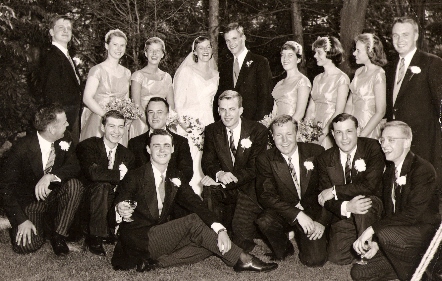 Front row, l to r: Eugene Vance (Oggie), Jake Pratt, Randy Hipple, Charles Homer Willauer (Chippy),
Peter G. Freck, Benjamin Russel Taylor, the late Tomas O. Williams (Tommy), James H. Meriwether.
Back row, l to r: W. Bradford Willauer, the late Judith Fairfield Piper Osgood,
Anne Isom Kauffman, Elizabeth Isom Willauer (Betty), Peter Osborne Willauer,
Sue Harris, Sally Willauer Nash, Kaye Andres, Whiting R. Willauer.
Bradford's comment from 8/14/06: I well remember the day. I think it was about 96, no wind. We were all in rented woolen cut-away jackets. I recall watching the sweat drop off Tom Williams' chin who was standing facing me across the opposite side of the choir. My first dance with Betty and my first champagne!